RECONCILIATION OF THE FINANCE DEPARTMENT'S GENERAL LEDGER AND INVENTORY ACCOUNTING
With the Ledger Validation Suite for Dynamics 365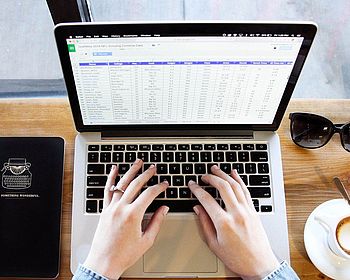 The challenge: Finding discrepancies between the finance department's general ledger and inventory accounting
For production and trading companies, recording countless incoming and outgoing stock, as well as stock transfers (including type, value, and quantity of the goods) are part of the daily work. 10,000+ stock movements need to be quickly recorded every day. Extrapolated over the year, a single company creates several million posting lines in the general ledger and sub-ledger. Deviations and minor inconsistencies are common. For financial and inventory accounting, usually in the run-up to the annual financial statements, it is an enormous challenge to reconcile inventory postings (in the sub-ledger) with those of financial accounting (in the general ledger). Manual troubleshooting is extremely time-consuming and finding all inconsistencies and discrepancies between the general ledger and inventory accounting is almost impossible.
This is where the Leger Validation Suite from Inway Systems comes to the rescue. With just a few clicks, the add-on lists all discrepancies between the general ledger and sub-ledger and accurately compares the corresponding postings. Find discrepancies reliably even within several million posting lines, post-process your financial and inventory ledgers in accordance with accounting principles, and optimally prepare them for operational and tax audits.
How the Ledger Validation Suite works
The Ledger Validation Suite traces discrepancies between the finance department's general ledger and inventory accounting on date and document level.
Sorted by date and document, you receive an evaluation report, as well as a list of all deviating posting pairs after a reconciliation scan.
You will also see all relevant data and information on the posting records found.
What does the Ledger Validation Suite cost?
On Premise
The Ledger Validation Suite lifetime license fee for the on premise versions of Dynamics 365 costs 5.300€.
Cloud
The subscription of the cloud version of Dynamics 365 costs 181€ per month.
Test now
Request your test version now without obligation!
1. In which languages is the Ledger Validation Suite for Dynamics available?
We continuously maintain and develop our solutions and add-ons. The Ledger Validation Suite is currently available in German and English. If you require a different language, please contact us directly.
2. For which Dynamics solutions is the Ledger Validation Suite for Dynamics 365 available?
The Ledger Validation Suite is available as an add-on for the following ERP systems:
Microsoft Dynamics AX
Microsoft Dynamics 365 for Finance and Operations
Microsoft Dynamics 365 Finance
Microsoft Dynamics 365 Supply Chain Management
3. I already have a Dynamics partner. Do I need to engage an additional Dynamics partner if I want to use Inway's solution?
No. You are welcome to let your current Microsoft Dynamics partner know about our great solution, so they can contact us and hash out all the details.